Nepalese Children's Education Fund
| | |
| --- | --- |
| Recycle for Education | Please fill out this form if you would like me to come and pick up bottles. I will send you a confirmation so we can fix the time. |
Hi,

I am Hem, Student of Environment and Geography. I work for non-profit organization, which helps underprivileged people of developing world in their household water purification systems. I have an idea and proposal for all of us to share.

There are so many ways recycles could generate money. I started with bottles and cans. I started collecting bottles for one hour during weekends just to see if I could collect enough money to put one kid to school. Within 8 months I collected $300. I collect bottles from my friends apartments in addition to my own. I got an idea, if a person could collect $300 in a year just by collecting bottles. How much would it be if we all collect bottles? There will not be any kids left behind without education due to financial reasons.

I would like to share this information with all of us. If possible and if you have time I would like to invite you to make this effort a success. Let us all have a common denominator, let us not leave any kid behind, and let us recycle.

The money, which I collect, goes to Nepal Children Education Fund .It takes $100 to put one kid to school for one year in Nepal.

The steps includes:
Collect empty bottles or cans
Put it through vending machine or near bottles collector .
Collect the money .
Send a check to

Nepalese Children's Education Fund
PO Box 380061
Cambridge, MA 02238-0061
USA

In Memo please type bottles so that we will have a record of it.

Hem Kumar Pokharel,
Initiator
Email: hem@recycleforeducation.org
Website: www.recycleforeducation.org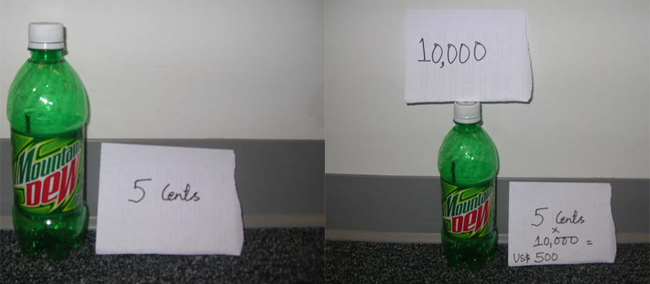 "If we collect only one can it is 5 cents. If one person collects 10,000 cans in a year that is US $ 500/year. If 10,000 people collect 10,000 cans in a year. It will be 5 Million/year." - Hem


"Vidhya Dhanam Sarvo Dhanam Pradhanam."

In Sanskrit, it means education is the greatest wealth you can get.




[Privacy Statement]
NCEF is a 501 (c) (3) charitable organization.
US Taxpayer ID: 51-0424140
© Copyright Nepalese Children's Education Fund 2004.