Nepalese Children's Education Fund
Children in Patan
Total sponsored students: 9
Male: 3
Female: 6
Grades: 4-7
Area Co-ordinator:
Mr. Suraj Pokhrel

Bhumika
Gender: Female
Age: 14 years
Grade: 5
School: Guheshwori Bal Shikchya

Bhumika lives with threee of her siblings along with her father and step mother. Her dad is the only person who financialy helps the family and it is quite challenging to support a huge family with a mere income of one person who works as a laborer in the neighborhood. With the help of NCEF, Bhumika could further progress in her studies.
Dinesh
Gender: Male
Age: 12 years
Grade: 6
School: Namuna Machindra Madhyamik Vidyalaya
Kumaripati, Lalitpur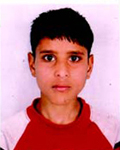 Dinesh's mother is the sole bread earner for their family of five as Dinesh's father suffers from a deadly disease. His mother can't afford to send him to school because of the family's poor financial condition. Dinesh is currently the top student in his class, and had shown great improvement over the past few years. With the continued help of NCEF, he can create a bright future for himself and his family.
Kopila
Gender: Female
Age: 12 years
Grade: 5
School: Srijanshil Secondary School
Thapathali, Kathmandu

Kopila and her brother are supported by their mother who works as maid. With poor financial conditions, Kopila's mother can't afford to send her children to school. If given the chance, Kopila is capable of doing very well in school, but her poor health condition prevented her from doing so last year. But, her family hopes that NCEF's help will continue so she can demonstrate her true abilities.
Laxmi
Gender: Female
Age: 8 years
Grade: 3
School: Shree Min Nath Adarsha Siksha Sadan
Mangal Bazar, Lagankhel

Laxmi land her family depend on her mother to complete all their financial needs. Laxmi's father has some mental disabilities which prevent from taking responsibility of his family. As her mother is busy with her labor work, Laxmi has to take care of her family. But, despite the difficulties, she still has been able to continue her education with NCEF's help.
Lopsang
Gender: Male
Age: 12 years
Grade: 6
School: Annapurna Aawasiya Madhyamik Vidhyalaya
Bagdol, Lalitpur

Lopsang's family's financial condition is very poor. His dad works as a laborer, and because of her inability to speak Nepali properly, Lopsang's mother is unemployed and unable to support her husband financially. Lopsang excels in his studies, and wants to study further in order to support his family and his nation. And, he can do so with NCEF's help.
Pramila
Gender: Female
Age: 16 years
Grade: 8
School: Pragati Sikshya Sadan Secondary School
Lalitpur

Pramila had faced many hardships in her life. The financial condition of her family is very poor, and they rely on her father's meager salary to support the family of four. In the past, Pramila has come to school hungry many times, and has once even fainted while in school. Pramila is thankful to NCEF for having supported her education so far, and she hopes that this help will continue so that she can properly complete her education.
Sabina
Gender: Female
Age: 13 years
Grade: 8
School: Nexus International School
Pepsicola

Sabina and her two siblings are supported by Sabina's widowed mother, who works as a maid to fulfill the family's financial needs. But, her salary is barely enough to support the family's daily expenses. Sabina is an extremely diligent student, and doing very well in her studies. Without NCEF, she won't be able to continue her education, therefore NCEF's help is very critical.
Sagar
Gender: Male
Age: 12 Years
Grade: 4
School: Gueshwori Bal Secondary School
Lalitpur, Patan

Sagar's father works as a laborer, and in the salary that he makes, he can't afford to send his children to school. Sagar is an outstanding student, and comes in the first position in his each class with his brother coming in the second position. The family is very thankful to NCEF for the help, and hope the support will continue.
Sushila
Gender: Female
Age: 14
Grade: 4
School: Annapurna English Boarding High School
Lalitpur

Sushila lives with her widowed mother who has to support her two daughters with the salary she makes as a maid. Although Susila has frail health conditions, she continues to do well in school. NCEF's support has been an inspiration for Susila to do well in her school, and it will prove to be so in the future as well.
Nepalese Children's Education Fund, Inc.
PO Box 380061 Cambridge, MA 02238-0061 USA
Email:


[Privacy Statement]
NCEF is a 501 (c) (3) charitable organization.
US Taxpayer ID: 51-0424140
© Copyright Nepalese Children's Education Fund 2004.